Also known as landscaping stables, anchors, fabric pins, or garden stakes, lawn staples in specific uses. The steel nail staples are reusable to secure landscape fabrics to reduce weeds, pin down lawns or hold the sod in landscaping and garden works. Processed from Q195 cold rolled basic steel wire or galvanized steel wire. Bent in U shape with two legs, sharp chisel points, square flat or round head.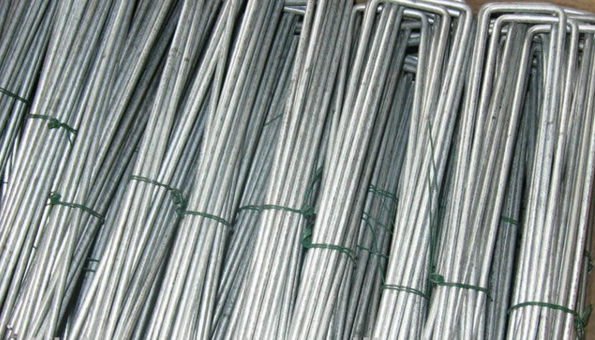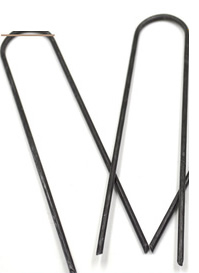 Square Top or Round Top Landscape ( Sod ) Staples:
Square top sod staple has a flat top, while round top staples are rounded at the top.
Square top sod staples are typically used for installing ground covers by securing landscape fabrics, weed barrier fabric controlling weed, securing synthetic turf and erosion control fabrics. The two-leg design allows for easier installation, and the square top creates a flat surface for driving the stakes into the ground. The stakes anchor the ground cover in place firmly, so the wind does not blow it away.
The round head sod stakes are typically used to hold down irrigation pipes, water hoses and PVC pipes.

General Information:
Diameter: 2.8mm-4.2mm
Length: 4''-14''
Material: Q195 cold rolled,equal 1020 cold rolled
Finish: Black steel with no plating or finish, Galvanized, Stainless Steel Finish

Standard 6 Inch Landscape Ground Covering Fabric Pins for Lawns and Turfs
Find uses in following scopes:
- As sod staples / pins to hold sod on hills or curves;
- As landscape anchors to secure landscape fabric to reduce weeds or keep birds away;
- As fence staple to secure wire for pet containment systems (dog fences);
- As Pins to fix erosion control fabrics & weed barriers;
- As fasteners for securing outdoor wires or holiday decorations;
- As wire stakes to secure tomato cages and other other plants in gardens and yards;
- As lawn anchors / staples to pin down lawn, artificial turf, or landscape edging;
- As wire staples to hold down water/soaker hoses or drip irrigation;
- Others.
Extra long 9 inch Sod Staples Used for Securing Better in Soft Soil Grounds
Designed to be 3 inches longer than standard 6 inch sod staples.
The staples with extra leg length are specially designed for soft soil anchoring.